Profile

Free Account
Created on 2017-04-15 02:00:45 (#3079770), last updated 2017-04-17 (23 weeks ago)
568 comments received, 0 comments posted
156 Journal Entries, 40 Tags, 0 Memories, 14 Icons

About

Mini Bio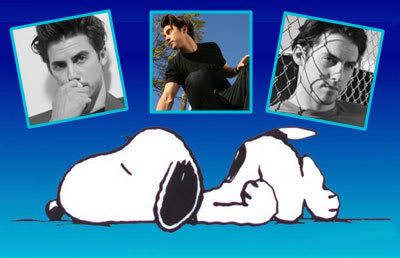 Desmond Molloy
Tell you about my mother, huh? Sure thing, Freud. She's a hippie, one of those 'burn your bra' types. Sweet lady though, don't get me wrong. Cool as hell. Jude and I have got the neatest mom and we were always envied by our other friends. My first joint? Was smoked with my mom in our basement. Um, I was born on May 22, 1985, four minutes after my brother Jude. We were both named after Beatles songs 'cause our parents are HUGE Beatles fans. Even THINK the name Sgt. Pepper and Dad gets a hard-on, no lie. Jude got the short end of the stick though. Poor guy, not only does he get the 'Hey Jude' jokes, but his middle name is Krishna. Me? I'm Desmond Jones Molloy. And yes, I avoid dating girls named Molly as much as possible. You have no idea how many times I've had to turn a hot girl down just because she's named Molly. It probably seems selfish and odd, but c'mon, I don't want to be living out a fucking Beatles song.

Oh yeah, don't tell Jude I told you his middle name, okay? He'd kill me.

Growing up in St. Louis was pretty uneventful. Mom and Dad didn't have any more kids after Jude and me. I guess twins were 'two' much to handle. Haha, get it? Man, my puns suck...anyway. We had the normal childhood. I developed the ability to annoy my brother almost before we could walk. Actually, before we could walk, to hear my aunts and uncles tell it. I was always stealing his toys or whatever. He got me back though as we got older. There were more than a few times when he beat me to the ground and made me say uncle. Through it all though, we've always had each other's backs. I mean, that's part of being a sibling, right? Even moreso when you're a twin. Now I'm not going to tell you that we can do any of that hokey 'talk to each other with our minds' stuff, but there's something to that whole twin bond thing 'cause there have been times when we've been able to sense when the other one's in trouble. Random feelings too, we can sense.

Um, he manifested first. I was kinda jealous, but whatever. I don't really remember when my psychometry manifested but I guarantee you that I will NEVER forget the first time I phased through something. Figures it'd have to happen right in front of a classroom full of kids my age, right? I still don't know how I did it, but we were working on balancing those stupid equations or whatever and Mrs. Stewart called me to come up to the board and demonstrate a problem. Fuck, I hadn't done my homework and the equations confused the hell out of me. All I could think about was getting the hell out of the classroom and as I started walking up to the board, I started sinking through the floor and before I knew it, I was up to my chest in the floor. I freaked out. It was nothing compared to my teacher though, wow. I think she retired shortly after that.

After high school, Jude went off and did his thing with the music and his band and stuff and I stuck it out and went to college. I'd always had a thing for computers and design and I decided to do something with it, so I got a BA in Graphic Design from the University of Missouri. I graduated in 2006, worked at a newspaper in St. Louis for a year and then got invited to move in with my brother in Boom Town. Like I was going to turn that down? Yeah, I don't think so. So I moved to New York. Set myself up a freelance business and started accompanying my brother on his tours.
Layout profile code thanks to ReversesCollide
Disclaimer: I am not Milo Ventimiglia nor am I Desmond Molloy. This journal is for character development purposes only. Desmond is a creation of
ibonekoen and belongs exclusively to her.

Connect

People
[View Entries]

Communities
[View entries]

Feeds
[View Entries]

Subscriptions (0)

Linking
To link to this user, copy this code:
On Dreamwidth:
Elsewhere: